Home
STATE: Hawaii
EXTENSION: 1,309 Kmq
ESTABLISHED: 1916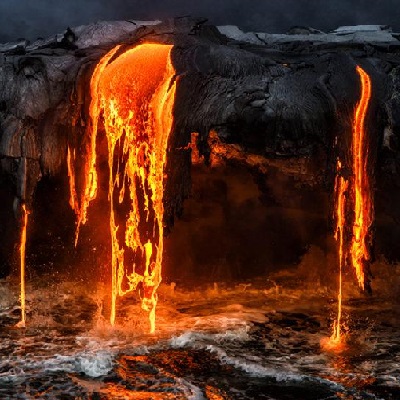 DESCRIPTION
Hawaii Volcanoes National Park is located on Hawaii Island, the largest island of the archipelago, in the middle of the Pacific Ocean. The park includes two active volcanoes: Mauna Loa, 4,169 metres high, and Kilauea, one of the most active volcanoes in the world. In this park, scientists can study how the Hawaiian Islands were formed, how volcanoes work and the hot spots in the earth's mantle.

Hawaii Volcanoes National Park offers many tourists the chance to move through hellish volcanic landscapes and through an area unique for its flora and fauna. In May 2018, an explosion on the summit of the Kilauea volcano released a toxic cloud into the atmosphere as well as triggering an earthquake that damaged buildings and roads in the area. Although volcanic activity is still ongoing, most of the park has reopened to visitors.
PURPOSE
The purpose for which the park was established is clearly stated in its charter: "The purpose of Hawaii Volcanoes National Park is to protect, study and provide access to Kīlauea and Mauna Loa volcanoes, two of the world's most active volcanoes, and to perpetuate endemic Hawaiian ecosystems and traditional Hawaiian culture related to these landscapes."
WILDLIFE
Against all odds, Hawaii Volcanoes National Park is home to a plant paradise made even more exceptional by its complete isolation from the mainland. Tree ferns and ferns and a tangle of rainforest sprout from the hardened lava. Unfortunately, the native flora is endangered by alien species. The park is home to many fascinating bird species, sea turtles and the largest dragonfly in the United States.
RECOGNITIONS
Hawaii Volcanoes National Park was recognised by UNESCO as an International Biosphere Reserve in 1980. In 1987, UNESCO designated it a World Heritage Site.
ADVICES
If you visit Hawaii's Volcanoes National Park, you can't miss the Kilauea Caldera and the Halemaumau Crater: seeing with your own eyes the molten matter that makes up the centre of our planet is impressive. The lunar landscape surrounding the craters is also beautiful to discover. Also interesting is the Thurston Lava Tube, one of the most visited places in the park. Finally, if you're lucky, you can even watch the lava flowing down to the sea. Unfortunately, it is not currently possible to visit the Jagger Museum which was closed after the 2018 explosion. In this museum you can understand how volcanoes work, touch unique pieces of cooled lava and see the scientific equipment used by volcanologists.