Home
STATE: Alaska
EXTENSION: 24,585 Kmq
ESTABLISHED: 1917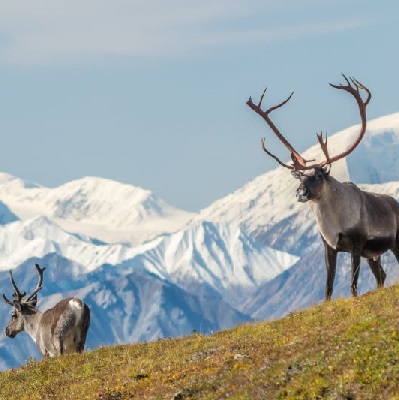 DESCRIPTION
Denali National Park is almost 25 thousand square kilometers of wilderness divided in two by a thin ribbon of asphalt. Travelling through it you will pass from the hills covered with coniferous forests typical of the taiga to the snow-capped mountains and subpolar tundra, until you reach Mount Denali, which, with its 6,194 meters is the highest mountain in North America. During this trip you can meet wild animals, large and small, that roam undisturbed in the nature.
PURPOSE
Denali National Park was founded at the beginning of last century with the purpose of protecting a vast wilderness area with unique characteristics from the point of view of geology, flora, fauna and people who have inhabited this extreme land for 12,000 years. In this regard, the park allows local people to continue to live according to their traditions and gives them the opportunity to support themselves through the park management.
WILDLIFE
Denali National Park is characterized by the plants, mosses and lichens typical of the taiga and tundra. In this complex ecosystem live 39 species of mammals, mooses, wolves, foxes, deer, wild sheep, marmots, even if the most characteristic animal is the grizzly bear. Moreover, 160 species of birds live here all year round or only during migration. At these latitudes there are no reptiles but in Denali National Park there is an amphibian, a frog that has adapted to living at low temperatures.
RECOGNITIONS
Denali National Park until 1980 was called "Mount McKinley National Park" in honor of the 25th president of the USA.

Since 1976 it has been part of the UNESCO Biosphere Reserves, this recognition was confirmed in 2017.

Denali National Park became famous thanks to the story of Christofer McCandless in the book "Into the wild" by Jon Krakauer from which the film "Into the wild" was based.
ADVICES
Denali National Park has only one road, called Denali Park Road, 92 Km long of which only 15 are paved and practicable by private vehicles. Travelling along the Denali Park Road with the park buses is the best way to visit the park and to watch nature and the animals that live there in complete safety. It is possible to take a walk along trails, which can be more or less well traced, to visit a part by bike and to camp.

The best moment to visit the park is of course the summer period, generally from the end of May to half of September, during the winter period it is possible to try the experience of travelling on dog sledges.